Now that Eid is over and you're done with all the "mehmaan-nawazi", let's recall these 7 types of mehmaan you encountered this meethi Eid! After all we're Pakistani's and we'll never fall short of different characters we come across :p
---
1. The Overexcited kid
When unasked for guests come over with their hyper and batameez bachay and all you can hear is;
"Meri eidi kahan hai?"
"mujhe chocolate dou"
'uncle thori aur eidi please'
And because theyre all over the (your) place, at this point all you can think of saying is "Beta, chammat hai? Wo doon?"
---
2. Shareef Shaista
Have you ever seen a before and after transformation?? NO? Remember Shareef Shaista during Ramazan? Wo Shaista se Sheila kya ban gai, mein tou isse bhool hi gai!
---
3. Eid ka Chaand
Happiness is meeting that one cousin you only see on Eid or not.
---
4. Rehmat ke Farishtey
"Eid hai socha mil letay hain, lekin takaluff na karna."
Indirectly mehmaan mean, 'hamare agay dastar-khwan laga dou. Saale in 1-2 baar hi tou mulakat hoti hai, lunch aur dinner dono kariengay."
---
5. Serial Hugging Kisser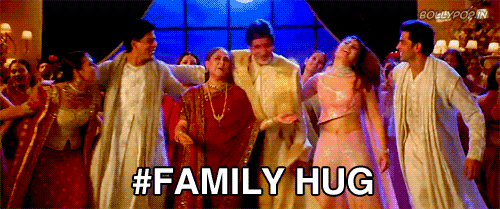 Aunty Parveen will hug you and squeeze you and kiss your pyaray gaal jab tak app sharam se na melt hojain :p
Agar aunty ne gunjaish chori, tou shayad family hug bhi mil jai
---
6. Darzi ne Kapre Nahi Diye Aunty
You have absolutely NO right to look good because inn aunty ke kapre nahi silay. She will be a sar dard and bring up her sad story everywhere till you get her a jora (not really).
Har cheez ka jawab- 'lekin meray tou kapre nahi silay.'
---
7. Eidi Digger
Eid aye, khushiya….. Wait wait!
Eid aye, eidi lai. Bohat sari and by that we mean hum apke ghar eid milne nahi, eidi ke maqsad se atay hain 😉
'Beta mainay apko 3000 eidi dee hai!'
'Ami bas? 5000 dein tou baat hai'
Ami shock, beta rocked
---
Ab categories tou apko hazaron mein milengee Kyunke hamari qoum mein talent aur characters ki kami thori hai. If you have any more to add, drop 'em below in the comments!